Class Overview

rish Dance Classes are held Monday to Thurday 3:30pm to 9pm, Friday from 11am to 3:30pm and Saturday from 12pm to 4pm.
Please review all iDance guidelines for additional information and frequently asked questions. All students should be familiar with all guidelines.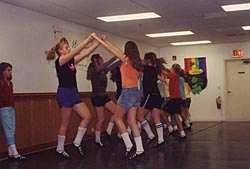 All classes are one hour in duration and we're located at the iDance studio, 181 Hamilton Ave. St. John's, NL. (See Map Here)
Registration Cost:
$169.50 (1x weekly) 8 weeks
$282.50 (2x weekly) 8 weeks
Drop in's Welcome to all classes! Cost $25.00
Class Schedule:
Monday
Tuesday
Wednesday
Thursday
Friday
Saturday
Sunday
Click here for Online Registration details!
Or for Further Details contact Shawn Silver.