rish Dance Classes are held Monday to Thurday 3:30pm to 9pm, Friday from 11am to 3:30pm and Saturday from 12pm to 4pm.
Please review all iDance guidelines for additional information and frequently asked questions. All students should be familiar with all guidelines.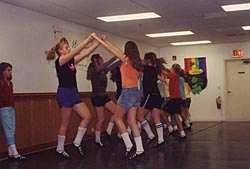 All classes are one hour in duration and we're located at the iDance studio, 181 Hamilton Ave. St. John's, NL. (See Map Here)
Registration Cost:
$169.50 (1x weekly) 8 weeks
$282.50 (2x weekly) 8 weeks
Drop in's Welcome to all classes! Cost $25.00
NEW! - Irish Dancing for Fun & Fitness...
This class is a complete cardio workout which incorporates some of the basic steps required for Irish dancing. We will take you through a series of warm up and stretching exercises first, then strap on our shoes and learn to dance to some of the lively Irish rhythms. You'll be dancing in no time! Even if you're a complete beginner, this class is for you, You will get a great workout and learn alot of the techincal work in a fun and non competitive way!
Classes for Mature Students (46+)
Thought you couldn't dance? This class is designed to move at a pace comfortable for the total beginner. You'll learn an easy reel and in no time you'll be dancing like the champs!
Ceili - Thursday nights 8pm.
Ceili is the Gaelic word for "Party". The Ceili dances are simply group dances, and are also known as "figure dances". Groups of 2, 4, 6, 8, more form these ceili dances. You will have fun dancing: The Walls of Limerick, The Seige of Ennis, a 4 hand reel, and more. It's alot of fun, and a great way to meet new people in a comfortable, social environment. Dancers who are interested will also take part in various festivals and events that our school is often invited to be part of.
After School Irish Dance Program
3:30 - 5:00 pm, Mondays to Thursday for Beginners and Intermediate Levels (ages 5 & up).
Class Schedule:
Monday
Tuesday
Wednesday
Thursday
Friday
Saturday
Sunday
Click here for Online Registration details!
Or for Further Details contact Shawn Silver.